Below, the experts at Roy Scott Marine Surveyors & Consultants of Florida, answer the most frequently asked questions about vessel appraisal, boat damage surveys, Maritime ISM Audits, marina surveys and more.  Simply click on the question and see your answer below.  If you have any additional questions, you can email us using the form on our Contact Us page or give us a call at (561) 706-13887, and we will be glad to answer them for you.
1.WHAT IS A CONDITION AND VALUATION SURVEY?
In its simplest terms, a condition and valuation survey is a report on the current condition of a vessel and its current value as judged by geographical location and condition. It assures the insurance company and financial institution that the vessel meets U.S. Coast Guard, National Fire Protection Association & American Boat and Yacht Council safety standards and that it is insured for enough value to replace it if damaged or lost.
2. WHAT DOES IT MEAN TO ME?
It aids you in the fact that you are insured sufficiently to meet any loss and that your vessel meets criteria for safe operation and welfare of your crew and passengers.
3. WHAT DOES IT MEAN TO THE FINANCIAL INSTITUTIONS?
Usually vessels are financed up to a certain percentage of their value. The remainder is your down payment. The survey advises the financial institution of the value of your vessel.
4. HOW OFTEN IS THE SURVEY REQUIRED?
It will depend on the insurance company, the value of your vessel and its age. For the sake of safety, a survey is recommended every three years.
5. WHAT IS THE PURPOSE OF A MARINE SURVEY?
A critical examination or inspection of a marine vessel for a specific purpose; the action of ascertaining facts regarding conditions or the condition of something to provide exact information especially to persons responsible or in fact interested; an examination of a vessel or a part of its cargo or equipment to determine its condition, responsibility for damage and disposition to be made.
6. EXACTLY WHAT IS A MARINE SURVEY?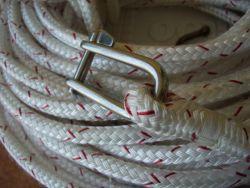 The C&V (Condition and Value) survey is a survey prepared for a prospective buyer of a vessel or an owner looking for insurance. It includes a detailed visual inspection of the vessels hull, deck, and both percussion testing and visual inspection of reinforcing components (where possible). The installed systems of the vessel are inspected for operation and safety. This includes but not limited to, propulsion systems(engines, cooling components, exhaust systems, fuel tanks and systems, engine mounts and stringers, proper ventilation, props and shafts, stuffing boxes, and transmissions). Electrical systems (Both AC and DC systems) are checked for proper polarity, ground fault protection, batteries are examined as well as charging systems, routing and connections of conductors are inspected. Thru-hulls are tested for operation and for proper grounding. Safety equipment such as, personal flotation devices, life rafts, navigation lights, fire extinguishers, carbon monoxide and smoke detectors, first aid kits, and safety alarms are also inspected. For surveys of sailing vessels, the sails and rigging will be inspected from the deck only
It is highly recommended that a sea trial be conducted on any vessel for a pre-purchase survey, allowing the boats engines and other systems to be tested.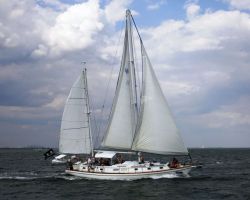 Surveys are conducted without the removal of any parts, including fittings, tacked carpet, screwed or nailed boards, anchors and chain, fixed partitions, instruments, clothing, spare parts and miscellaneous materials in the bilges and lockers, or fixed or semi-fixed items. Locked compartments or otherwise inaccessible areas would also preclude inspection. Owner is advised to open up all such areas for further inspection. No determination of stability characteristics or inherent structural integrity has been made and no opinion is expressed thereto. All surveys represent the condition and value on the date of the survey and is the unbiased opinion of the surveyor.
Surveys are conducted in accordance with, The mandatory standards promulgated by the United States Coast Guard, under the authority of title 46 United States Code, title 33 and title 46 Code of Federal Regulations, and the voluntary standards and recommended practices developed by the American Boat and Yacht Council (ABYC) and the National Fire Protection Association (NFPA).
Our reports are detailed and thorough yet easy to read and understand.
7. HOW LONG DOES A SURVEY TAKE?
Usually we can perform the service within 48 hours. We recommend that you be there to open any locks and grant us permission to board and inspect. The survey can run anywhere from 2 to 10 hours depending on the size of the vessel and 2 to 8 hours in the office to thoroughly prepare the survey report.
8. CAN I BE PRESENT AT THE TIME OF THE SURVEY?
We welcome our clients to be present, and we have no problem explaining as we conduct the survey.