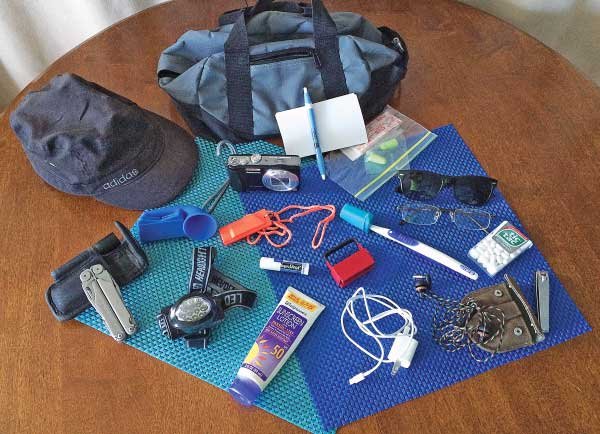 In the 17th century, British sailors kept their personal items in what they used to call a "housewife," a tubular-shaped fabric sack closed with a drawstring that contained their belongings as well as essentials for repairing clothing and some tools of the trade. These bags, companions to the sailors' sea bags or sea chests, were hung from a hammock ring or a hook or peg next to their bunks. Eventually, they became known as ditty bags, and they're still a great way to keep things close at hand. Whenever we go to our boat, the beach, or just on a picnic, my ditty bag goes with me and contains everything I might not even know I need. My ditty bag is about 6 inches by 12 inches with a zipper from end to end. Made from heavy material, it has carrying handles on the top and end. Inside are pockets and a plastic sleeve to hold papers. Outside is a zipper pocket to hold keys or money. The modern design is more like a duffle bag and is easier to access via that long zipper. A small backpack will also fit the bill, as long as it's reserved just for this purpose.
During the 40-plus years that I have been on the water, (ships, houseboats, powerboats, and sailboats big and small, I've carried a ditty bag pretty much every time I leave the boat, and it's saved my bacon many times. Inside mine is:
Flashlight
Leatherman multitool
Magnet on a string to retrieve metal objects that fall overboard or into crevasses
Cell-phone charger
Earbuds
Camera (though now those are on our smartphones)
Sun block
Tape measure
Waterproof sportwatch
Ballpoint pen
Index cards
Fishing license
Reading glasses
Sunglasses
Toothpicks
Band-Aids
Chewing gum
Seasick pills
Extra keys
If you're going out exploring long distances in your dinghy, add:
Handheld VHF
Personal locator beacon
Carry anything you don't want to get wet inside resealable bags. Luckily, when we were locked out of our boat, we could open the companionway because I'd hidden an extra key, attached with a screw beneath an outside hatch. In my handy ditty bag was a screwdriver, and in minutes we were below enjoying those cold drinks.