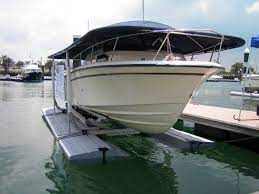 Do you need a lift? Lifts are a convenient way to store your boat when not in use.
Boat lifts deliver multiple benefits. They keep the boat out of the water when not in use, so anti fouling paint may not be required as the bottom is unlikely to get very heavily fouled.
Securing The Boat
It's important to ensure that the boat is secured to the lift. This is important to do as a matter of course, but especially critical when extreme weather is predicted. High winds may dislodge the boat from the bunks, damaging both boat and lift. Straps around the boat will secure it and help to keep it in place and safe.
Manual Or Electric?
Some smaller lifts are manually operated, but the majority operate using electric motors. Most have a worm gear and drive, which should be enclosed by a cover to protect the electric motor and drive mechanism from weather and prevent body parts from coming into contact with the motor and drive assembly.
Maintenance Is Key
Boat lifts operate without complaint, but that doesn't mean they're maintenance-free. Every time you use the lift, rinsing it off with freshwater will go a long way toward preventing corrosion — especially important if you do your boating in salt- or brackish water. Washing your lift is one of the best things that you can do to prolong the life of the unit.