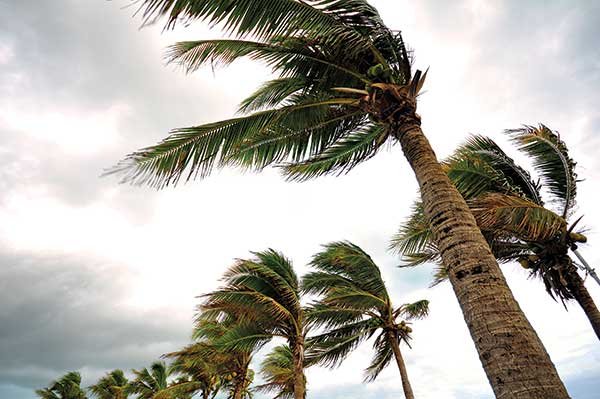 STORM PREP
A hurricane or other major storm brings four threats — wind, rain, waves, and surge — and you can improve your boat's odds against all four by preparing early.
Based on a great article by Tim Murphy
We live in an age of unprecedented storm forecasting. In both the United States and Europe, ever more sophisticated computer models provide us with ever lengthier lead times to prepare our boats for the worst as a storm approaches.
Here's a day-by-day guide to getting your boat ready once a storm has been forecast for your region. Keep in mind that every tropical storm moves at its own speed, so treat this a rough guideline. The goal is to finish your boat preparations well before the first big winds start to blow.
Day 0: Advance Preparations
The first round of storm preparations is best addressed at the beginning of boating season — well before any particular storm starts brewing.
Review your boat's insurance policy. What actions does it require of you? If you live in an area that may be prone to hurricane activity, many policies may carry a "Named Storm Deductible" that is higher than your normal deductible. Some policies allow you to lower your named storm deductible by properly preparing the boat by moving it to land, lashing it down with in-ground anchors and removing all canvas and/or sails from the exterior.
Day 1: Storm's First Reports
Only a few storms are destructive in any one region; many more are supremely inconvenient. When a forecast shows a wide range of possible landfalls, it's human nature to want to assume the storm will miss you. But avoid taking that bait. The first day that your boat's location is included in the storm's possible track — that's the day to start getting ready.
Rearrange your schedule for the next few days to allow for storm prep
Gather chafe gear for docklines, mooring pendants, or anchor rode. Duct tape and rags are not sufficient. Commercial products such as Chafe-Pro have been proven to work in extreme conditions
Gather any tools you'll need to remove gear or electronics from the boat
Marina Boats: check in with the marina manager; coordinate your plans. Make sure marina staff can reach you on short notice (cell phone, email)
TRAILERED BOATS:
Confirm that the trailer and tow vehicle are ready to go.
MOORED BOATS:
Locate any extra pendants, chafe gear, shackles or any other gear you'll need to beef up your attachment to the mooring.
ANCHORED BOATS:
Choose your hurricane hole. Gather all the equipment (extra anchors, chain, rode, chafe gear) you'll need to create a storm-anchor system.
Day 2: Storm Approaches
If a whole day has passed and your boat is still in the storm's possible track, it's time to act. Some marinas require you to execute your storm plan more than 72 hours before the predicted landfall. Check for bridge closures due to the storm. This is the time to think through a storm's four threats: wind, rain, waves, and surge. What can you do to mitigate each of those?
PREPARE FOR WAVES:
If your boat remains in a marina, keep in mind that sandbars and breakwaters may be covered by the surge, exposing your boat to the wave's full force. If waves are a possible factor, orient the bow facing them.
PREPARE FOR WIND:
That means removing absolutely everything you can: biminis, cushions, chairs, tables, outriggers, dinghies, motors, sails. If your boat will be in a slip, position the bow toward the likeliest direction of storm winds — but give precedence to the direction of waves. Tie the boat as far from the dock as you can. Each dockline should be long enough to its own strong point to allow for surge.
PREPARE FOR RAIN:
Ensure that your scuppers and bilge are free of debris, sludge, and any obstructions. Remove electronics or other equipment that's sensitive to moisture. Tape over hatches and dorades to keep wind-driven rain out. Check that bilge pumps are working. Top off batteries that will run the pumps and turn of un-needed items that will drain those batteries. If you have a low-freeboard boat or one with inadequate drains, it will need to be hauled out or trailered to avoid sinking.
PREPARE FOR SURGE:
The spider web of extra long docklines recommended in "At A Dock" should allow for a rise and fall of water level that may be unprecedented for your area.
Day 3: Storm Imminent
Time is now getting tight. Secure any items that you might have missed; remove any valuable items from the boat that remain. Take photos of your storm preparation in case your insurance company needs them later.
Day 4: Storm Watch
A hurricane watch indicates that hurricane conditions may pose a threat within 36 hours. By this time, you should have done all you can to secure your boat. The focus now should be on getting yourself and your family somewhere safe.
Day 5: Storm Warning
A hurricane warning for your area indicates that sustained winds of 74 mph are expected within 24 hours. Hopefully, by now, you and your family are safely away from the coastline — and your boat is just about the last thing on your mind