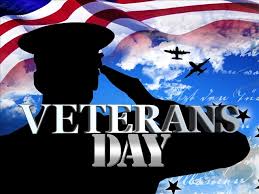 Veterans Day is intended to honor and thank all military personnel who served the United States in all wars, particularly living veterans. It is marked by parades and church services and in many places the American flag is hung at half-mast. A period of silence lasting two minutes may be held at 11am. Some schools are closed on Veterans Day, while others do not close, but choose to mark the occasion with special assemblies or other activities.
Veterans Day annually falls on November 11. On the 11th hour of the 11th day of the 11th month of 1918 an armistice between Germany and the Allied nations came into effect. On November 11, 1919, Armistice Day was commemorated for the first time. In 1919, President Wilson proclaimed the day should be "filled with solemn pride in the heroism of those who died in the country's service and with gratitude for the victory".
Veterans are thanked for their services to the United States on Veterans Day.