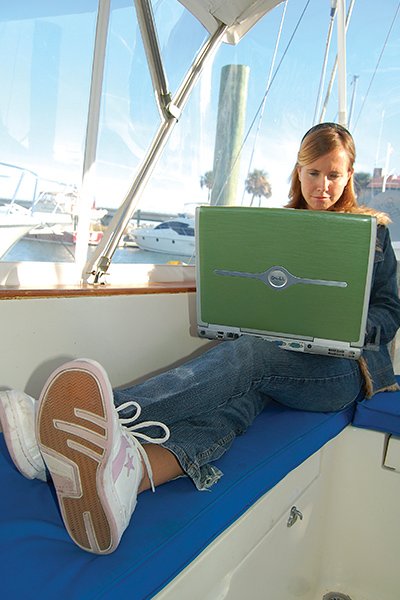 Sometimes, being able to take care of professional and personal business while on your boat can give you more freedom and peace of mind. Here's advice about improving communications aboard.
Getting online while onboard is relatively easy and reliable these days.
We've lived, cruised, and worked aboard our boats since 1979, so our office capabilities are probably more complex than those of other cruisers. But through trial and error, we've learned solutions to many communications issues that arise while working aboard. More and more boaters are doing it, whether it's a flex day, weekend home work, or just keeping up while on vacation. What we've learned may help you to tailor your "onboard office" to fit your needs.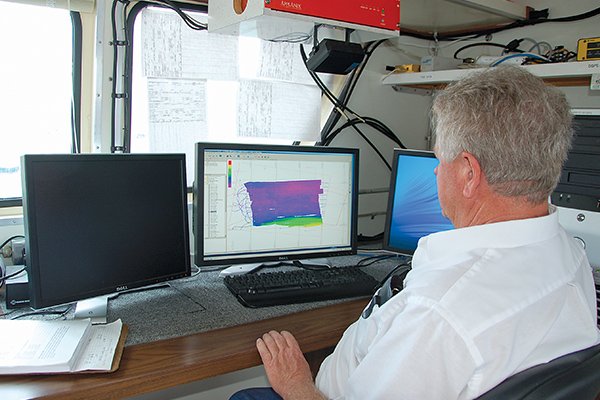 Office Power
I've found that a stable, pure-sine-wave power supply is critical for my office "equipment" such as computer and printer. This may be somewhat less of an issue with a laptop because its battery provides some buffering protection from power failures and surges, but you'll still have issues with peripherals such as a printer/scanner or router. Even power from the dock is suspect. If somebody trips over your power cord or unplugs or jiggles it, the resultant surges can be devastating to equipment you have plugged in and turned on. Generator power, even from good units, is likely to have surges. On Chez Nous we address this problem with what has proven over the years to be a very effective system.
My office "station" is supplied by current from a dedicated true sine wave inverter. An inverter will change DC current from a battery bank to AC current. Some inverters (less expensive ones) put out AC current in a modified sine wave. While this type of current will run many things, it won't run some equipment (most scanners, for example), and it could be, in the long term, damaging to other equipment even though it seems to be working satisfactorily at the moment.
The inverter is "dedicated" because when external AC (shore or generator power) becomes available, some inverters will automatically and almost seamlessly stop inverting and begin passing through that external AC power. To avoid passing through potentially corrupted AC from the docks or the generator to our sensitive office equipment, we use a PROsine inverter by Xantrex exclusively for the computer station. It's wired only to the batteries, not to a feed from our AC system. We use another larger PROsine 2.0 as our primary battery charger and the supplier of AC throughout the rest of the boat, when there is no generator or shore power. It also passes through dock or generator power, when it's available, to that less-sensitive equipment.
When purchasing an inverter, check for its efficiency rating during the inversion process. The more efficient it is, the less battery power it'll consume. Some inverters use a transformer; some use other more sophisticated technology. The transformer inverters are generally heavier and less expensive. They may have a higher surge capacity, but this probably won't be needed for office usage.
You may be able to avoid the high expense of a data plan and equipment by hanging out in Wi-Fi hot spot areas if you don't mind this geographical limitation. Most marinas offer complimentary Wi-Fi service and you can often find hot spots that work from anchorages. Some require you to pay a fee; some don't. Some towns and businesses offer free Wi-Fi that includes the harbor, but we've found many of these services to be unreliable. With sufficient speed (and not too many people sharing the transmitter) you may be able make phone calls using VoIP (Voice over Internet Protocol) technology. There are numerous Wi-Fi signal enhancers that you can purchase from retailers such as office-supply stores. These can be very helpful bringing in a weak hot spot signal.
If you don't want to hang out in Wi-Fi hotspots and want to travel to more remote anchorages with questionable coverage, you can enhance data reception of air cards and related equipment, including cell phones, by signal boosters. Cell-phone towers are often oriented to the land. We use a cell-phone antenna made by Digital Antenna, (www.DigitalAntenna.com), a company specializing in enhancing mobile communications. The antenna is mounted as high as possible – in our case, atop our mizzen mast. Down inside the boat, we also use their DA 4000SBR amplifier that boosts the signal received by the antenna. The amplifier is connected to a small antenna mounted in the boat. It's like our own mini cell-phone tower. This greatly increases our cell phone voice and data coverage. (Use the wire and connections they recommend, because inferior equipment can significantly diminish signal.) We only get air cards that have an external antenna port so that we have the option of direct wiring an external antenna to the device if needed. This helps significantly in some areas.
If you plan to visit places such as the Bahamas and the Caribbean, your U.S. cell phone and air card may not be compatible with all offshore systems. This is changing rapidly and the "right" equipment today may be outdated by press time. If you're headed to a cruising destination away from the U.S., wait until shortly before you really need to buy this equipment, then ask the experts as well as other cruisers. As an example, Ocens (www.ocens.com) is used by many long-distance cruisers as an experienced, one-stop-shop company that can help with what you need for your particular application.
Traveling farther offshore, you need other equipment. You can get online almost anywhere in the ocean via satellite using equipment from KVH (www.kvh.com). Prices have come down for this equipment. This can give you Internet access from the middle of nowhere, but also TV and music, and voice access. It's also possible to send email via SSB with the right equipment. Interested? Google terms such as "email SSB." Compression programs can help with this methodology. However, we've found SSB to be unsuitable for our purposes, which include long emails with attachments and Internet surfing.
Man At Work
Tom Neale works full time, at "home," which for the past 32 years has been his motorsailer, Chez Nous, on which he and his wife Mel have lived full time. Here's how he's set up his office.
On Chez Nous, we established an office space with an unused extra bed in the aft stateroom. We ditched the mattress and built a desk that slides in and out at the forward end of the bed, leaving the after end for office storage. There's a hatch for cheering sunlight, but because my office is in the stern of the boat it seldom gets spray. A small but comfortable and adjustable office chair minimizes fatigue. If Mel is at the helm and I'm in the office, we talk with each other via intercom. We use plastic file boxes for paper storage. They fit into unlikely spaces and we can keep files that we'd normally carry ashore in one "House/Boat" box so that we don't have to worry about sorting through papers when we start or finish our cruise.
I've found that it's critical to have a quiet place dedicated to my "office" work. A loud space next to, say, the engine creates fatigue and makes phone conversations difficult. A location in the bow may be uncomfortable when you're underway. A navigation station already has a desk, but if it's immediately inside an entrance you may find it hard to concentrate, and your equipment may suffer from spray, salty moisture, and sunlight.
My Computer Of Choice
Most of my boat computers have been desktops. They're easier to get into to change components such as memory, drives, video cards, and power packs. Warranty service does little good if we're in a beautiful anchorage in paradise. But if I can replace a part myself, I'm likely to be able to save the day. Some newer laptops are easier to access than older ones; most are still challenging.
A desktop tower can be tucked into a nook or cranny, with only the monitor and keyboard taking desk space. Also, depending upon the layout of your boat and location of your "office space," you may be able to use the same desktop tower for navigation programs.
An advantage of a laptop is that you can take it home and spare it from the excessive heat and humidity aboard while you're ashore. If you use wireless peripherals such as a mouse, keyboard, and printer, shipboard electrical "noise" may interfere with them depending on location and equipment.
Buy only computers that come with repair, recovery, and program disks. This can be critical should you have a major failure. You may not be able to download fixes while cruising. Invest in a good Internet security program and familiarize yourself with the computer's onboard self-diagnostic tools. Obviously smartphones, Apps, iPads, and the like are dramatically changing the scenery. But if you need to type a lot or do extensive Internet research, a traditional computer may be your best tool.
Digitization
Digitalization has vastly improved my ability to do business from our boat. An inexpensive small printer/copier/scanner enables me to scan papers that I then store on a hard drive and backup devices. Scanning each "keeper" document as it comes in means it's always with us if we need backup. And I can print out documents sent to us as email attachments, sign them, scan them back in, and return them by email, saving a digital copy. In the old days, this exchange, with mailed paper, could have taken a month or more.
I back up all my work aboard onto at least one flash drive and put it in my pocket when we leave the boat. If you keep a computer aboard, this would enable you to copy your work to your home computer. If you transport a laptop back and forth, the flash drive is still invaluable if you carry it with you when you leave your boat unattended. And many times, as we've expected severe weather or other problems, we've placed our flash drives into our waterproof Pelican ditch box.
We Don't Leave Home Without It
Before we go on a cruise of any length or distance, we look ahead and determine the documents we need to take with us. It's important to consider events such as maturity dates, tax dates, or documents that may require an original or notarized signature. Talk with the professionals with whom you may have to interface while away, explaining your situation. This takes more time than expected. The "real world" won't stop just because we're in transit aboard our boat. But the good news is that we've found that planning ahead and the right office aboard has set us free.